Food or Toy?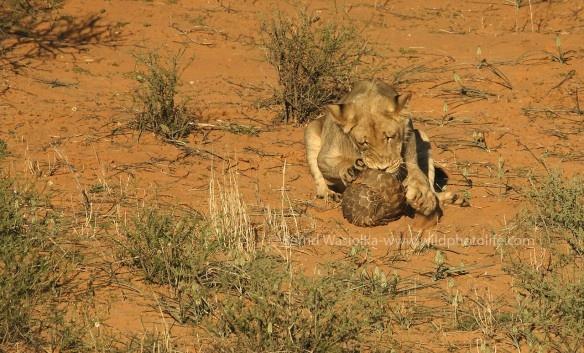 One morning in the Kgalagadi Transfrontier Park I stumbled upon a surreal scene – a few lion youngster were playing with a very rare pangolin. Or did they try to feed on it?
The pangolin was curled up into a tight ball and the young male lion struggled to open it.
After many unsuccessful tries he gave up and left the pangolin alone. After a while the pangolin uncurled and started its long way to safety. But the gateway was not that easy and its ordeal not over yet. Another young male pounce on it, quickly the pangolin curled up and left the lion stunned. After a brief moment of confusion he rolled it around for a while.
He rather looked like an unskilled soccer player with poor ball handling abilities. Recognizing his bad soccer skills he stopped playing and started rather to behave carnivore like. He tried to uncurl the pangolin and to bite into the tight ball.
Luckily the pangolin was strong enough to resist all lion attempts to uncurl it. And the mouth of the lion can't open far enough to get a proper grip around the pangolin to bite into it. Many tries later the lion youngster gave up as well. This situation repeated itself for a while – uncurling, moving, pouncing, curling up, playing, biting …
Finally the lions had enough and gave up. The unscratched pangolin uncurled one last time, started to move away from the scene of harsh harassment and made it safely behind the dune where it was seeking shelter.
Another stunning morning in the Kalahari.
Stay Informed
When you subscribe to the blog, we will send you an e-mail when there are new updates on the site so you wouldn't miss them.